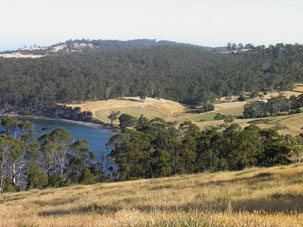 Workshop Outline
Numbers are strictly limited to single figures. The aim is to provide a tailored, down to earth and fun learning experience and a personal introduction to this wonderful island.
We do not provide accommodation in this workshop price to suit locals or those preferring to stay in Hobart. However we would recommend staying on the island to get the most from the workshop experience (and also because its just so glorious) so will hold one particularly well-situated cottage just up the road from the farm with an amazing outlook over Storm Bay and out to the Tasman sea. We have a brisk start on Saturday morning after meeting over coffee and all work is fuelled by substantial lunches, morning and afternoon teas. Included in the price is a Saturday night get-together dinner using Bruny's amazing produce and featuring wines selected and/or made by Jane. 
The Bruny Island scenery is spectacular and the weather can can be that way too (making it the source of much of our inspiration, delight and humour) although we are in the safer middle months. Weather updates will be provided closer to the workshop times and attendees need to be dressed appropriately for a two day, on-farm, on-island experience.
We provide a lot of the workshop tools and materials such as paper, drawing boards etc but attendees will be expected to bring specific materials with them. We can help organise collection etc from one of the most highly recommended art suppliers in town.
Follow the other links on our site for the island's tourism experiences, and for advice on public transport/ferry timetables.
We can also collect from the ferry if this is required. For all other enquiries please email jane@bullbay.com.au