The Artists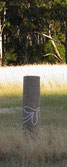 Ian Marr is a letter cutter and painter known for his work with Mintaro slate from the Clare Valley, north of Adelaide. He practices the little-known art in Australia of letter-cutting and carves prose into the slate – prose from current affairs, history, literature, his own imagination and commissioned text. Ian creates tablets, tables, and memorials from slate, carving text as well as images into the surface; he also paints onto the surface of the slate. He paints landscape scenes which he sees on his extensive travels.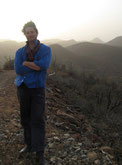 Joanna Logue
During this two day workshop we investigated a variety of processes to realise new ways of seeing and portraying the landscape, using plein air painting as a departure point before returning to the studio to look to formal aspects of image making. Whilst understanding a balance between emotional and intellectual approaches to painting we endeavored to arrive at work that speaks of the essence of the landscape at Bruny Island.
Camie Lyons
Part of being a person is being in a state of constant motion. We are pushed and pulled, hurled and tossed, spun, lifted, dropped and released. It is a vortex of churning, volatile beauty, as unpredictable as the Tassie weather and as raw and dramatic as its landscape. There is much beauty to be found, especially when the mind is calmed and we notice the small things. We began our workshop with the gathering of such small things, objects found in the surrounding landscape, which we used to create sculpture.